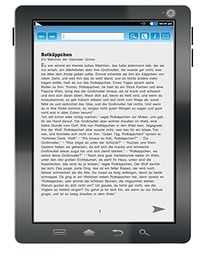 Examples: text-heavy books, such as Novels and nonfiction.
To make your ebook compatible with as many readers as possible, we convert your ebook in the above mentioned standard formats ePUB or MOBI.
For the conversion and creation of your ebook we require the manuscript including all graphics in a word processing program (Word, images, such as the Cover as JPG or PDF).
Services included:
Conversion to XHTML for ePUB or MOBI
Creation and linking of content page
Embedding of Cover
Navigation links for ePUB or MOBI
Optimizing images and graphics for the screen display
Tables and graphics inserted as images or as text-based tables
Formatted and linked footnotes
This offer includes minor changes in the final document (major changes will be charged extra).
Pls contact us for a quote based on your book content (e.g. how many images, tables, links, footnotes, etc.)
Get a quote