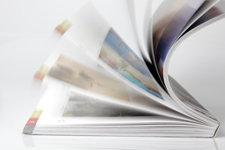 We will find the right design for every book!
We gladly offer you the design and layout of your book:
Layout design for your book project
Book setting of the complete book project
Digital image processing and preparation of graphics for print
Cover design
Book production (printing in collaboration with specialized printing companies)
Advertising materials (eg, flyers, postcards, posters, bookmarks, banners, etc.)
The price is determined by the length of your manuscript. We will create a customized solution for your book design based on your needs and available budget of your book project. For a quote please send us a few sample pages or describe your content.
You will receive a master copy in PDF format, adapted to the requirements of your printer or the relevant books-on-demand publishing platforms. You may submit/upload it yourself or we can do this for you.
On request, we also organize the printing of short runs of high quality books in collaboration with printers who specialize directly to hard- or softcover books! Should you be on the lookout for a suitable books-on-demand publisher, we can give advise and provide recommendations. An overview of books-on-demand publishers can be found here or in the eBook "How to publish your own book or eBook."